Belmont Boracay - LOCATION
The Belmont Luxury Hotel Boracay is just 600 meters away (to the east) from another of Megaworld's splendid hotel; The Savoy Hotel Boracay.
The Belmont is a quick 28 minutes away from the Cagban Jetty Port via the Boracay Highway South through Boracay Highway Central and the Boracay Tambisan Jetty Port Road. 
The Belmont Luxury Hotel Boracay is nearer in Station 1 and has its own first-class and unique amenities and facilities. However, hotel guests can have easy access to different beaches, coves, and other natural features in the Newcoast. Additionally, they will enjoy the exclusive access to the Newcoast's Grand Plaza (known as Newcoast Station) that serves as the community's entertainment center and take-off points toward the township's other famous features.
Furthermore, guests can stop and shop at the Boutique Hotel District, the Shophouse District or experience the joy of the site's Leisure Center. Tourists can pay a minimum fee to play at the property's Golf Course and have access to use and enjoy the facilities of the Fairways & Bluewater Golf Course and Country Club.

How to get to Belmont Luxury Hotel Boracay

Foreigners who want to invest at the Belmont Luxury Hotel Boracay can own 100% of the hotel unit just like a local. If you are going to Boracay, there are no direct flights to the island; that is why all visitors, residents, and guests should fly to either Caticlan (the nearest airport) or Kalibo (another town in Aklan that is 60km away from Caticlan Airport).
Here are some routes that you can take when coming from outside the island once you are in the Philippines. For foreign investors, you can either fly to Manila (NAIA), Clark International Airport in Pampanga, Davao International Airport in Davao City or Cebu-Mactan International Airport in Cebu, then start from there. However, investors (foreign and local) don't have to worry about going to Belmont Hotel in Boracay once you are on Boracay's shore (the Boracay Jetty Port or Cagban Jetty Port) from the airport (either Caticlan or Kalibo) in mainland Panay.

From Manila to Boracay by air
Since there is an airport in either the city of Caticlan or Kalibo, you can catch a flight from the domestic terminal (NAIA) in Pasay City going to Boracay. Some of the airlines that fly this route include SkyJet Airlines, SEAir Airlines, PAL, Cebu Pacific, and Air Philippines. However, the best flight is via Caticlan Airport because of its close proximity to the island of Boracay, but most budget flights land in Kalibo Airport. Both flights take about one hour of flight-time from Manila. 
Whatever destination you choose, once you arrived in the airport (Caticlan or Kalibo), you have to hitch a bus or van ride to the Caticlan Jetty Port (travel time is 20 minutes from Caticlan and 2 hours from Kalibo). From this port, you can take a 15-minute boat ride to the Cagban Jetty or the Boracay shore. From the shore of Boracay, there will be a free shuttle service that will fetch you and bring you to the hotel, just like what we have stated above.
From Davao City to Boracay by Air
The easiest and most practical way of going to Boracay from Davao City is to book a flight from the Davao International Airport to Caticlan. If this is not feasible, take a flight that will take you to Kalibo. Either flight would last an hour. Some of the airlines that fly this route include Air Asia Philippines, Cebu Pacific, PAL, and TigerAir. Once you are either in Caticlan or Kalibo, follow our instructions above in going to your vacation hotel in the Belmont Luxury Hotel Boracay. 
Cebu to Boracay by air
If you are coming from Cebu, you can take a flight from the Mactan-Cebu International Airport (MCIA) and be landing anywhere in Caticlan, Kalibo, and Iloilo City on Panay Island (in case you can't book a flight to either Caticlan or Kalibo). There are daily flights (PAL and Cebu Pacific Air) to these destinations at the MCIA. Once you are in Iloilo City (located south of Panay Island), you can take a 4-hour air-conditioned bus to Caticlan Jetty Port. If you land in either Caticlan or Kalibo, follow the instructions above on your way to the Belmont Luxury Hotel Boracay.
Palawan to Boracay by air
If you are coming from Puerto Princesa City in Palawan, you can take a flight from PAL (Philippine Airlines) to Iloilo City. Only AirAsia have daily flights from Puerto Princesa to Kalibo. The country's flag carrier (PAL) has daily flights from Puerto Princesa City to Iloilo City and vice versa. Once you are in Iloilo City, you can fetch an air-conditioned bus or a van to Caticlan Jetty Port, then follow our directions above.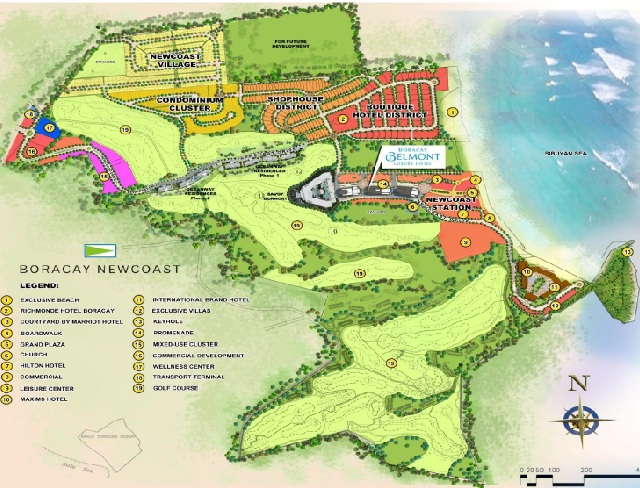 The location for any real estate property is very important and Megaworld has always taken care of the same. Until and unless the location of a hotel property is not exclusive and picturesque it is less likely to draw tourism. The property is located in the Northwest of the Boracay Island close to private beach and stretch of white sand. The luxury hotel is located along the new coast drive in the Island of Boracay in Aklan area. It definitely is a tropical paradise and a place that will definitely be loved by tourists and guests.
The beautiful Island makes a perfect place as an integrated tourism estate with promise to provide the guests with best tropical experience. The hotel is close to all the important amenities required for day to day routine like super markets, restaurants, tourist attractions etc. It consists of a pristine, one-kilometer long beach oasis spread with powdery white sand, crystal clear water and has a huge open space.
Boracay Island is one of the best Islands in Philippines making it a hot investment destination. With rise in massive tourism and its likelihood to increase over time makes it a perfect destination to invest in. The real estate hotel property is located in the heart of Boracay Newcoast making it close to everything. It is in close proximity with the Boracay International airport and places of entertainment making it convenient for the guests. In the coming years, Boracay is definitely expected to grab world class attention by travelers and tourists, making the investment a definite profitable business for long term.